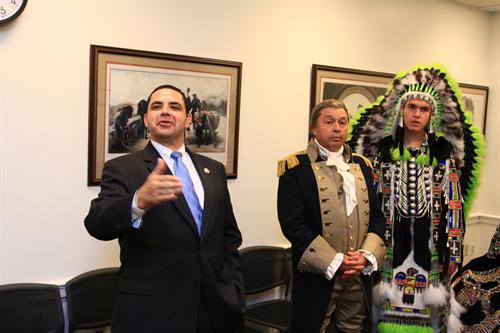 Don't worry the $20,000 for this costume doesn't come out of the Kid's food bill
Washington, Dec 2 - Today, Congressman Henry Cuellar (TX-28), announced that the House passed the Healthy, Hunger-Free Kids Act of 2010, the most significant improvement to child nutrition programs in more than 30 years. The bill is expected to be signed into law by President Obama.
Focusing on improving children's health and reducing childhood obesity, the bill authorizes $4.5 billion over 10 years to provide an additional 21 million meals to children annually and connect approximately 115,000 new students to the school meal programs, as well as establish national nutrition standards for all foods sold in schools throughout the day.
In Texas, 2.9 million children participate in the National School Lunch Program, feeding 65% of all Texas students. Currently, the national poverty rate for children is 20.7 percent – up from 15.6 percent in 2000 – and childhood hunger is correlated with poverty. In addition, one in three children is currently either overweight or obese – up dramatically over the last 20 years.
A majority of school districts in the 28
th
district use the National School Lunch Program and the School Breakfast Program, which will benefit greatly from this bill through the increased funding to purchase healthier foods and increased nutritional standards.