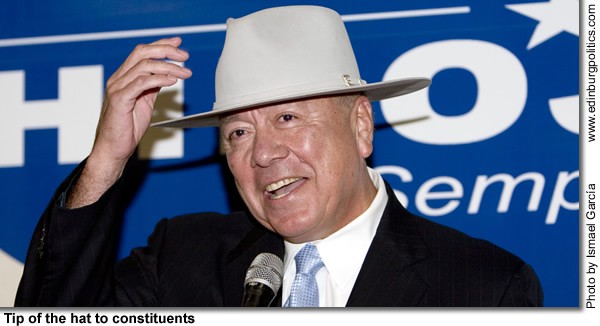 Turncoat Chuy Hinojosa (D)-Mcallen, votes with GOP on budget
From the Lone Star Report
The Texas Senate has adopted the budget (HB 1), 20-11. Several Democratic Senators attacked the budget, while Sens. Steve Ogden (R-Bryan) and Dan Patrick (R-Houston) defended it.
"This budget lives within our means and does not raise taxes," Patrick said in announcing his decision to vote for the budget.
"When we started this process, liberal interest groups were clamoring for a $10 billion increase in spending," said Lt. Gov. David Dewhurst. "The Texas budget shows Washington and the other 49 states that it's possible to make government live within its means without raising taxes. This budget makes a historic $15 billion cut from current spending, while still providing ample funding for our good teachers, our school children and our seniors."
"I voted against the appropriations bill (House Bill 1) because it does not reflect the values of Texas families and because it will have a severe, lasting and negative impact on our beloved state," said Sen. Judith Zaffirini (D-Laredo). "Texas is at a crossroads: Access to quality education and higher education are critical to maintaining our state's economic competitiveness. To meet the demands of employers and educate our rapidly growing population, we should be strengthening our commitment to higher education, especially as every dollar invested in higher education returns up to $18 to the Texas economy. The state budget formalized today, however, shortchanges higher education by more than $960 million and public education by $4 billion."
All Republicans voted for the budget as did Sen. Juan "Chuy" Hinojosa (D-McAllen). All other Democrats voted against.