From The Huffington Post-By Galia Slayen
She stands about six feet tall with a 39" bust, 18" waist, and 33" hips. These are the supposed measurements of Barbie if she were a real person.
I built her as a part of the first National Eating Disorder Awareness Week (NEDAW) at my high school, later introducing her to Hamilton College during its first NEDAW in 2011.
The Scary Reality of a Real-Life Barbie Doll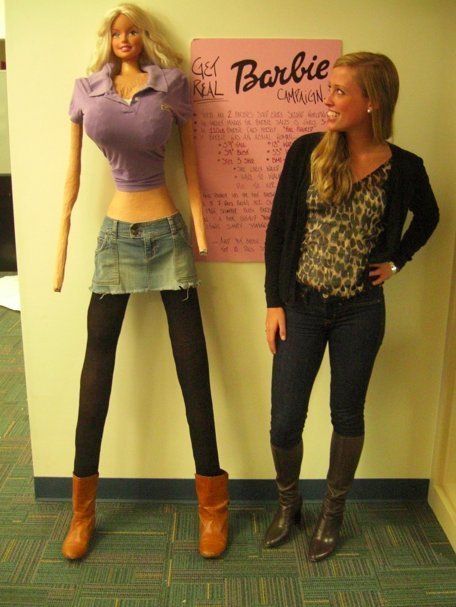 When I was a little girl, I played with my Barbie in her playhouse, sending her and Ken on dates that always ended with a goodnight kiss. I had fond times with my Barbie, and I admired her perfect blonde locks and slim figure. Barbie represented beauty, perfection and the ideal for young girls around the world. At least, as a seven-year-old, that is what she was to me.
In January 2007, I was looking for a way to make my peers realize the importance of eating disorders and body image issues. I was frustrated after quitting the cheerleading squad, frustrated with pressures to look and act a certain way and most of all frustrated with the eating disorder controlling my life. I wanted to do something that would turn others' apathy into action. That evening, my neighbor and I found two long pieces of wood and started measuring. With a little math, nails and hammering, we built a stick figure that stood about six feet tall.
Read more at:
http://www.huffingtonpost.com/galia-slayen/the-scary-reality-of-a-re_b_845239.html